Description
Wholesale & ODM/OEM
Свяжитесь с нашим оптовым менеджером Алина или Эрина через WhatsApp В правом нижнем углу страницы и оставьте сообщение, чтобы получить скидку! Спасибо! 
ZIFRIEND 2021 Портативный режущий плоттер нового поколения для защиты экрана,
Nano Гидрогелевое TPU передние задние защитные пленки для iPhone iPad iWatch Nintendo Switch Samsung HUAWEI Xiaomi Vivo Oppo
Почему ZIFRIEND?
-Лучший поставщик для защиты экрана
-1,000,000 штук защитных пленок для экрана в месяц
-Производство плоттер для резки пленки  высокого качества
-8000㎡завод, 50 цехов, 10 сборочных линий.
-5000 комплектов режущих плоттеров в месяц
-Экспортируется в более чем 100 стран и регионов.
-Добро пожаловать в OEM / EDM
-Отправьте запрос с потребностями, мы предложим вам эксклюзивное решение


Последние выставки


Готов к отправке!
 -В наличии!
-Готов к отправке в течение нескольких дней
-Чат с нами для скидки и специального подарка!


Свяжитесь с нашим оптовым менеджером Алина или Эрина через WhatsApp В правом нижнем углу страницы и оставьте сообщение, чтобы получить скидку! Спасибо! 


"Thanks Andrey and Bruce. It is a truly a big, exciting, revolutionary solution out there and I am rapidly falling behind with all the computer info. That being said, I have been eager for reducing the inventory fees for many years so this ZIFRIEND intelligent film cutting machine has been so helpful to me and I will be keeping in touch with them to see what other new back films have been launched."-Elaine Luther, traditional tempered glass screen protector wholesaler
"Shopping mall as a consumption place with huge traffic, ZIFRIEND smart film cutting machine undoubtedly the best choice. It's cool enough for consumers to see. It is convenient enough to be placed wherever people pass by. For small-scale, simple projects like tpu screen protector or color back films, this machine is a great pick for stores."-Jim, Chain store owner
Описание продукции
Материал высокого качества
-Высокопрозрачный гидрогелевый ТПУ
-Самовосстанавливающийся ТПУ
-Матовый / антиблю ТПУ
-Нано углеродное волокно
-Свяжитесь сейчас для большего количества передних / задних пленки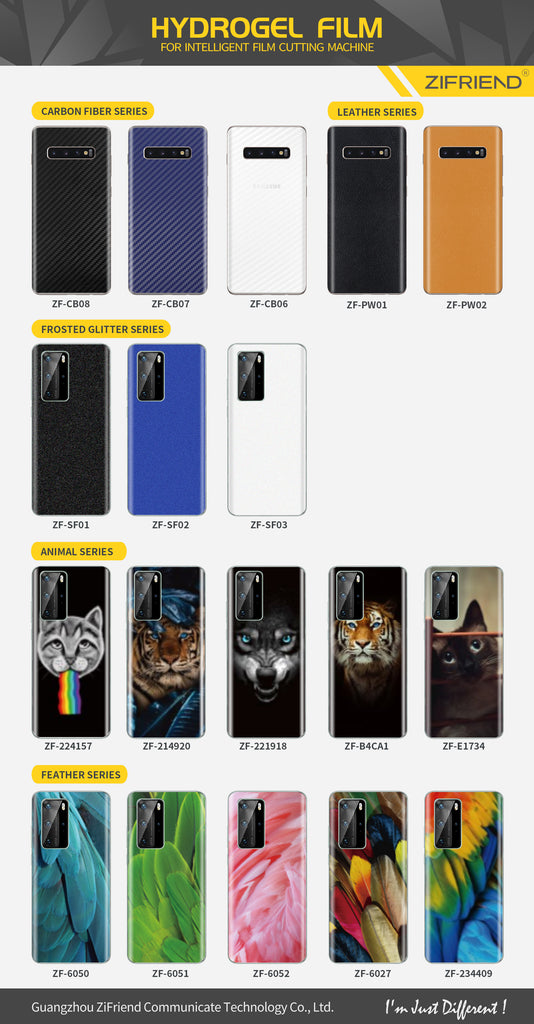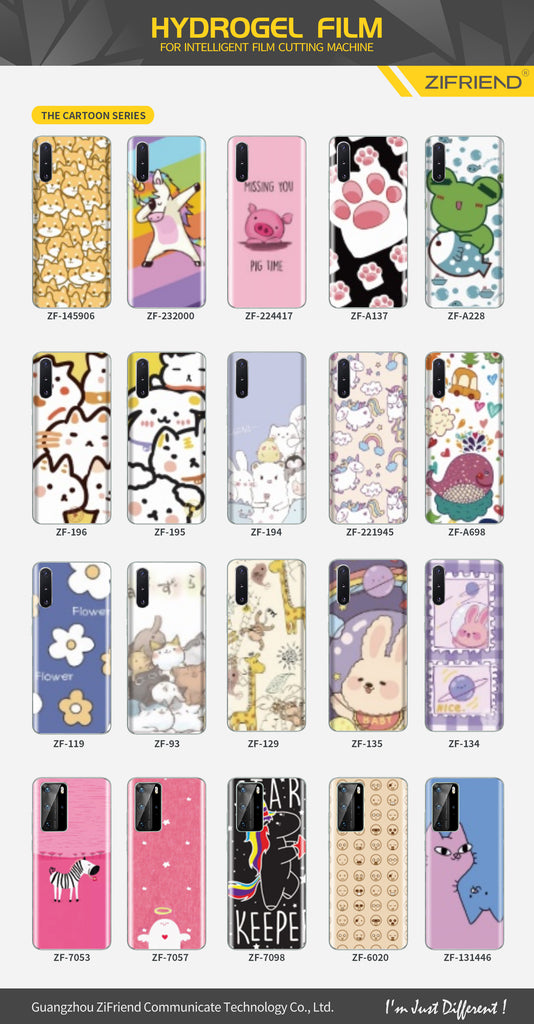 Смаотная система
-Настроенная интеллектуальная система
-Не нужно загружать приложения
-Лучшее для офлайн-магазинов терминалов


Высокая совместимость
- Точные данные телефона модели
-Быстрое обновление новых моделей
-Нет необходимости готовить инвентарь, гибкие продажи, быстрая прибыль


Товарная список

Свяжитесь с нашим оптовым менеджером Алина или Эрина через WhatsApp В правом нижнем углу страницы и оставьте сообщение, чтобы получить скидку! Спасибо! 
Thanks for willing to do wholesale business with ZIFRIEND.
As a 12-years screen protector and phone accessories manufacturer, we have several solutions for different Business Types.
No mater you're doing Wholesale or Retail business, Online or Offline, we have these solutions for you with professional ODM/OEM service:
A+ Tempered Glass with Easy Applicator for Apple iPhone iPad
Hydrogel TPU with Easy Applicator for Samsung HUAWEI
Intelligent Film-Cutting Machine for phones tablets
Full Glue Tempered Glass Screen Protector
Screen Protector for Watches/Camera Lens
Private Mold Phones Accessories
More Solutions with Patents
Feel free to contact us via WhatsApp at the Bottom right with our Wholesale Manager to customize your exclusive solution, or you can visit ZIFRIEND Official Alibaba store for more B2B products.