Description
Wholesale & ODM/OEM
ZIFRIEND 2021 New Generation Portable Intelligent Screen Protector Cutting Plotter,
Nano Hydrogel TPU Front Back Protective Film Cutting Machine for iPhone iPad iWatch Nintendo Switch Samsung HUAWEI Xiaomi Vivo Oppo
Why ZIFRIEND?
-Top screen protector solution provider
-1,000,000 pieces screen protector capacity per month
-Top film cutting machine manufacture
-8,000㎡ factory, 50 facilities, 10 assembly lines
-5,000 set cutting plotter capacity per month
-Exported to more than 100 countries and regions
-Welcome to OEM/EDM
-Send Inquiry with needs, we will offer you exclusive solution
Latest Exhibitions
Ready to Ship!
-In stock!
-Ready to ship within days
-Chat with us for discount and special gift!
Feel free to contact us via WhatsApp at the Bottom Right with our Wholesale Manager Mia or Erin, to customize your exclusive solution.
"Thanks Andrey and Bruce. It is a truly a big, exciting, revolutionary solution out there and I am rapidly falling behind with all the computer info. That being said, I have been eager for reducing the inventory fees for many years so this ZIFRIEND intelligent film cutting machine has been so helpful to me and I will be keeping in touch with them to see what other new back films have been launched."-Elaine Luther, traditional tempered glass screen protector wholesaler
"Shopping mall as a consumption place with huge traffic, ZIFRIEND smart film cutting machine undoubtedly the best choice. It's cool enough for consumers to see. It is convenient enough to be placed wherever people pass by. For small-scale, simple projects like tpu screen protector or color back films, this machine is a great pick for stores."-Jim, Chain store owner
Products Description
High Quality Material
-High transparent hydrogel TPU
-Self-repairing TPU
-Matte/anti-blue light TPU
-Nano carbon fiber
-Chat now for more front/back films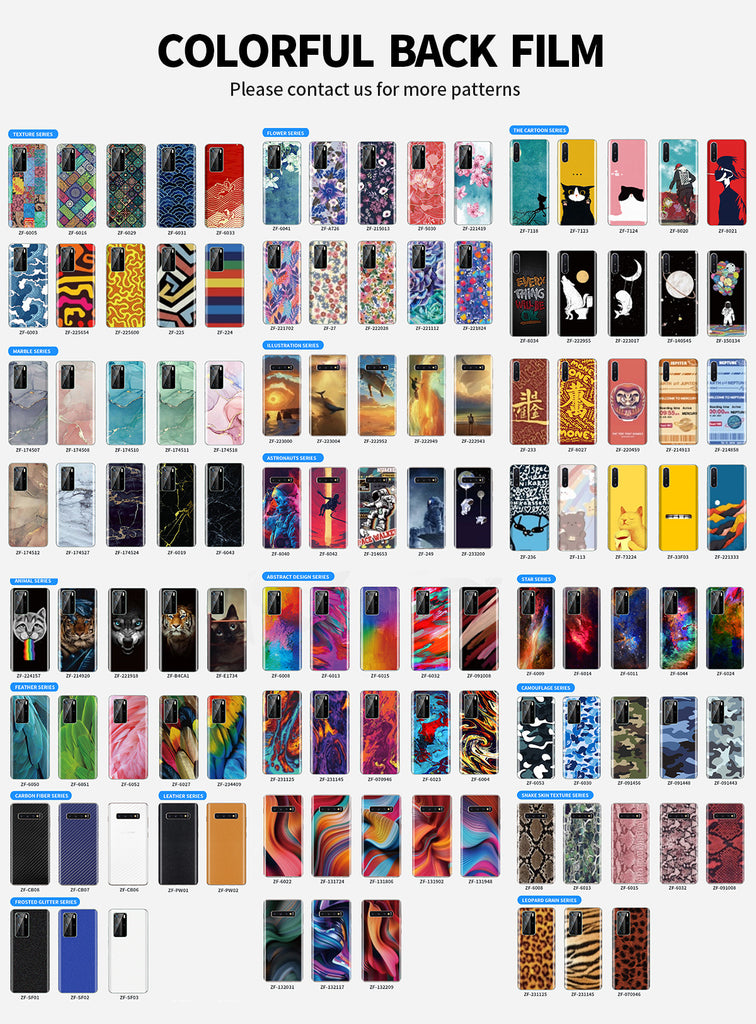 -Customized intelligent system
-No need to download any APPs
-Best f

or

offline terminal stores
-Real phone data
-Keep updating for new models
-Stock easily, sale smartly, earn quickly
Package Listing
Feel free to contact us via WhatsApp at the Bottom Right with our Wholesale Manager Andrey or Mia, to customize your exclusive solution.
Thanks for willing to do wholesale business with ZIFRIEND.
As a 12-years screen protector and phone accessories manufacturer, we have several solutions for different Business Types.
No mater you're doing Wholesale or Retail business, Online or Offline, we have these solutions for you with professional ODM/OEM service:
A+ Tempered Glass with Easy Applicator for Apple iPhone iPad
Hydrogel TPU with Easy Applicator for Samsung HUAWEI
Intelligent Film-Cutting Machine for phones tablets
Full Glue Tempered Glass Screen Protector
Screen Protector for Watches/Camera Lens
Private Mold Phones Accessories
More Solutions with Patents
Feel free to contact us via WhatsApp at the Bottom right with our Wholesale Manager to customize your exclusive solution, or you can visit ZIFRIEND Official Alibaba store for more B2B products.